Vision & Focus
We are committed to:
Providing an annual forum for training and development;
Promoting teamwork by fostering professional and inter-agency associations;
Encouraging within our memberships by promoting a common understanding of issues surrounding women working in the law enforcement environment; and
Responsibly representing the interests of our (general) membership.
Our History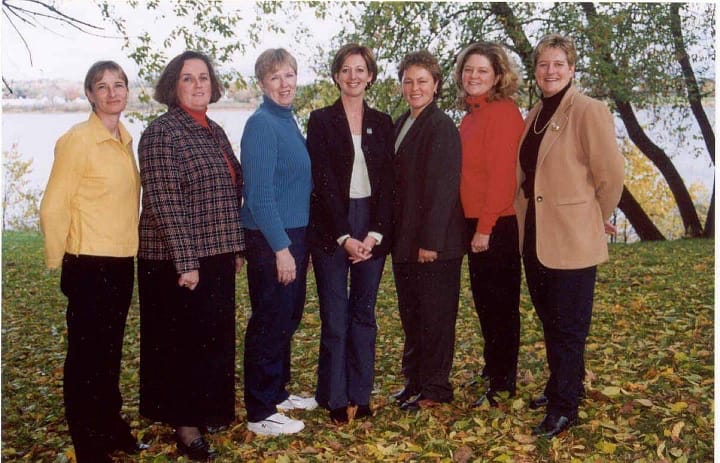 In the fall of 1992, RCMP Chief Superintendent Roy Berlinquette, Commanding Officer of RCMP "J" Division made a decision that the female RCMP officers of New Brunswick come together and explore issues surrounding them in the policing environment as well as try to develop a better understanding of how we may create a more healthy work environment for all. His view was that if we had the opportunity to gather in one place; then maybe we could collectively lead and improve our situation in the police environment.
This is where I come into the picture. My name is Kathy Long and participated in that original plan. I was a female member stationed in Headquarters in Fredericton at that time and had arrived in "J" Division in 1977 and retired in 2003.
Approximately 30 women were requested to attend. The conference was a two day event and we had an opportunity to listen to speakers flown in by the Commanding Officer. This was followed by delicious dinner. The next day we broke off into small groups to discuss, basically, what our challenges were and what the solutions to those challenges might entail.
There was a lot of discussion about what was not right in the work environment, some were horror stories that only we could understand. For those from the more remote postings, it was the first time anyone had ever listened to them and it helped them realize they were not alone. However, time not being on our side, we left with much unfinished business. It was clear our lives are a mixture of different roles. Most of us are doing our best to find the right balance with family and work. That day I decided to be someone who brings people together. I believe that you can educate yourself or you can believe in being negative and cynical. I chose the education by developing a forum that would lead us collectively and hopefully make changes so that all could benefit in the workplace. At the time I was a member of the International Association of Women Police, and saw the success of this organization; so why not on a local level. This is how my idea of an annual forum for women in policing was formulated. A few weeks later I met with our Commanding Officer and presented my proposal. He thought it was a great idea and offered his support. I asked one of my RCMP colleagues at work, Lise Roussel, if she would assist in the planning. Lise also volunteered up some of her friends, even her young daughters. The day before the conference they came in with their mother carrying branches of red and orange leaves they had picked in the woods. Their efforts made for a colorful decor in our conference room. Another colleague offered her services with the applications and programs. We decided the theme would be "'The Balancing Act".
Then I sat down and made a list of all my friends and their fields of expertise. This is where the art of networking pays big dividends. It is amazing what you can get for a good meal and a tank of gas. Barb, who has a consulting business on developing healthy work environments, agreed to drive from Halifax. Susan had expertise in finances and investing, she came from Moncton. She also offered financial support, which she continued for many years. I even persuaded my family doctor to make time in her busy schedule to speak on women's health issues. Once again I want to thank these people who helped make an idea turn into a successful venture.
Needless to say, the event was well received by those who attended. There are a lot of anecdotes, some fun, others sad, which I hope to have the opportunity to share sometime in the future.
The following year, we extended the invitation to the municipalities and the other divisions in Atlantic Canada. It was at this third conference that Dianne Stairs of the RCMP offered to host it in Halifax and we have never looked back. The conference has since been hosted by the police
women of Saint John, CFB Shearwater, Summerside, Halifax, Codiac, Fredericton, Truro, Campbellton and now the 15th year it will be in St. Johns, Nfld.
At the 1998 conference we chose our first executive and confirmed our name as Atlantic Women in Law Enforcement. The "Notebook" was also born and membership became official. The original executive consisted of President Kathy Long – RCMP, Vice-President Lisa Jackman – Halifax Regional Police, Secretary, Dianne Stairs – RCMP and our Treasurer was Liz
Chisholm – Saint John Police.
You should all be proud of your continual efforts to enhance the role of women in the law enforcement profession. Hopefully the younger women will recognize the significance of A.W.L.E, and are encouraged to become involved and continue the tradition. It is an organization founded on the desire to work together equally and inclusively to achieve excellence in your profession for all members.
~ Kathy Long, First President of A.W.L.E.